- edited by Bjørn J. Berger
It is a fact that not much has been written about Magic Realism in visual art. These pages will try to do something about this situation, by providing relevant links and publishing articles about Magic Realism.
WHAT REALLY IS MAGIC REALISM?
This article takes you to the 1920's and back—to explain how the term Magic Realism occurred and what Magic Realism really is.
Read more
VISUAL ARTISTS CONNECTED TO MAGIC REALISM
Here you can find a wide collection of hand-picked links to visual artists with at least one thing in common: They are all creating art that is more or less connected to Magic Realism.
Read more
USEFUL RESOURCES ABOUT MAGIC REALISM ON THE NET
Here you will find a collection of links to articles, definitions etc. about Magic Realism within visual art.
Read more
MAGIC REALISM QUESTIONS "REALITY"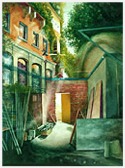 The painter Michael Cook takes you beyond "reality" and into the multidimensional landscape of Magic Realism. Here, where the borders between dreams and reality blur and get fused into a higher unity, Cook explains some of the differences between Surrealism and Magic Realism, and how Magic Realism has always been a part of art history.
Read more